Browsing articles from "October, 2011"
Over 300 guests took some time out to relax at our event where they enjoyed free spa services, snacks and refreshments, and an informative career panel with Internship Coordinators from various high-profile companies.
Aveda Institute Los Angeles treated guests to hair styling, manicures, mini-massages, express facials, and makeup application.
Eager students were thrilled during the Q&A with Internship Coordinators from Berman Braun, Creative Arts Agency, Reveille Productions, Stand Up 2 Cancer, and Teen Vogue – where the panelists shared insight, advice, and tips on landing a dream internship.
To see all the photos from the "Study Break" Event, please see our Facebook album 
here
.If you were not able to make it this time, don't worry!  We will be having another Study Break Event in the Spring, so keep your eye out for the invitation.
Hello beautiful readers!
There is no better day to pamper yourself than on your birthday. Trust me; today is mine.
 I'm treating myself to a relaxing afternoon, and it's really so nice. How often do we take time out of our days to just sit back and relax? Pick up a good book, go for a walk, watch a movie?  
It's so important for our mental health to take a little time just for ourselves. I think we should all try to do that more often, and whether it's your birthday or not, start today. Make a cup of hot chocolate tonight, turn off your phone, and relax. Do whatever you want to do; just don't skimp on the mini-marshmellows or cake.
And check out our Spaphile deals and let the pampering continue!
Cheers!
This Tuesday, October 25th from 6 to 9pm, Spaphile, Broke Girl's Guide, and InternQueen are co-hosting a "Study Break" pampering party and career panel at the Aveda Institute Los Angeles in Westwood. There will be seventy-six Aveda Institute technicians on hand providing FREE mini-massages, manicures, pedicures, express facials, makeovers, hairstyling. In addition, there will be a career panel featuring representatives from Us Weekly, Teen Vogue, Stand Up 2 Cancer, BWR Public Relations, BermanBraun, and The Mark Gordon Company. Refreshments will be provided by ACTIVATE drinks, appetizers will be provided by BJ's Restaurant, and desserts will be provided by Sweet Dreamery Desserts. There will also be a raffle benefiting the Breast Cancer Research Foundation and gift bags handed out to the first one hundred guests. Raffle prizes have been generously donated by the Aveda Institute Los Angeles, 365Hangers, Babakul, Wicked the Musical, BJ's Restaurant, Pantages, and BAO Foot Spa.  The first one hundred lucky arrivals will receive gift bags full of exciting items from Aveda, NYX Cosmetics, popchips, ACTIVATE Drinks, SneakPeeq, EventBriteLA, Lennie Ross, and Divas in Defense. While this event is designed as a "Study Break" for college students, everyone is welcome! For more details and to RSVP, please see the event website: http://studybreak.eventbrite.com/ We hope to see you there!
A couple weeks ago, a friend took me out for tarts. She had bought a Groupon for a discounted tart tasting at a new place in West Hollywood, Früute.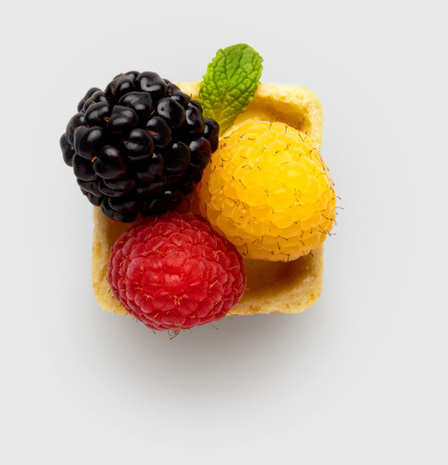 We arrived a little late to the tasting (whoops), but the two people working there that night were so accommodating. They offered us coffee, tea or water, and even brought us the tarts that everyone else had already sampled. From the first bite, I was in love. The tarts are made exclusively with all natural ingredients, and beautifully  and creatively designed. The Araguani is topped with an edible rose petal, the Budino has a small green macaroon on it, and the seasonal Pumpkin Spice tart has it's own mini-biscotti, and it's all made on site.
The store is simple, sleek, and modern, but well lit and inviting. They've just moved into this location this summer, and quickly became a hit. They cater to parties and events, and their tarts were included in the gift bags at the Emmy's.
I hope that you all visit them soon and enjoy the delicious tarts as much as I did!
Cheers!
It can be difficult to find a good book that:
a) speaks to you in your own voice
b) is relatable to the point where you can see yourself, or someone you know, in one of the characters
c) is familiar with regards to people, place, and time
d) is funny enough that you don't fall asleep reading it in bed
Author Lennie Ross' debut novel 'Blow Me' has all of the above in a witty tale of sex, dating and disappointment in the City of Angels.  Blow Me is the story of three single women—Skylar, Dawn, and Chloe—all hovering precariously close to forty, and stuck in a lifestyle that they have long outgrown.  Not having achieved any of their goals, their lives are in complete chaos and their only hope now is to be rescued through marriage or by a Hairy Godfather. Situated in the shallow world of Los Angeles, this provocative novel in the style of Sex and the City provides a humorous, edgy look at aging, dating, and being single in the new millennium.
We chatted with the savvy Lennie Ross to get the scoop on the inspiration behind Blow Me, her thoughts on living in LA, and her top beauty secrets.
Spaphile: What was your inspiration for Blow Me?
Lennie Ross: I always loved Sex and the City, and of course see myself as a sort of real-life Carrie Bradshaw—from the writing and the men, to the shoes. However, I found that the characters in Bushnell's series had rather perfect lives – something I have never had. They all had great jobs, they had great friends, and when the dating life sucked, they still had each other. I wanted to write a novel with a bit more grit. I wanted to show that girls don't always get along—that there is jealousy, envy, and gossip that can stand between them… as well as men! I also wanted to show how challenging it is for women, and have a book that is humorous while still being inspiring. What I wanted to do with my novel was make a Los Angeles version of Sex and the City—something a little grittier and a little less glamorous.
S: We couldn't agree more – it's not as fun or easy as the Sex and the City girls make it look!  Are the characters in Blow Me based off of real people in your life?
LR: Ask my girlfriends! Honestly, no. The characters are not based on real people. However, I did take experiences that happened to either myself or my friends and fictionalize them. For instance, the character of Dog Boy was based on a real guy. It was just such a good example of what jerks LA men can be, that I had to find a way to incorporate it into the story. The characters are all fictional, though my friends and my experiences certainly inspired me.
S: What advice can you give women who are in a similar situation as Skylar, Dawn, and Chloe?
LR: I think what I would tell women in a similar situation that self-esteem is key to success at anything in life. The girls in my book struggle with self-esteem, as a lot of women do. I would advise them to never settle, and not to lose sight of their dreams no matter how deep, or how shallow, they may seem to others. They are your dreams and you have a right to pursue them.
S: Amen!  So tell us, what is your favorite LA hot spot?
LR: There are so many great places in LA. It depends what kind of evening you want to have. If you want to dance and party, then I'd say Drai's on top of the W Hotel in Hollywood can't be beat. Another very cool place, brimming with LA attitude, is The Soho House at 9200 Sunset Blvd. It's a private club/restaurant with the most amazing view of the city. The only catch is, you have to be an invited guest of a member. You can't just show up and expect to get in. It's very LA.
S: Yeah, we're still waiting on our invitation… What do you love most about LA?
LR: I get asked this question a lot. What I love most about Los Angeles is the weather.  Second to that would be the variety of things one can do in the city, from surfing to shopping on Rodeo, to hiking or horseback riding, to seeing concerts at the Hollywood Bowl. It's just a great place to live. And, even better, it's about an hour and a half away from so many other great places: San Francisco, Santa Barbara, Las Vegas, Palm Springs, Newport Beach. If you like warm weather, you really can't find a better place to live on the West Coast.
S: We couldn't have said it better ourselves. So let's talk beauty.  Do you find the time to pamper yourself? If so, what's your go-to spa service?
LR: Honestly, I don't find enough time to pamper myself, but I am a firm believer in it! Even if it's a quick mani/pedi squeezed into a hectic schedule, it allows a woman time to destress and just flip through the pages of a magazine for a few minutes. Our lives are so busy, sometimes we forget to stop and just breathe! That's why I think spa treatments are essential. They are a way to recharge the batteries. My go-to spa service is a 90-minute deep tissue massage followed by a salt or sugar scrub. I like to spend time in a eucalyptus steam before my treatment as well.
S: Sounds ahh-mazing!  Finally, tell our readers what two beauty items you can't live without.
LR: The first beauty item I could not live without would be sunscreen. I wear it every day, and am a firm believer in anti-aging through prevention rather than trying to repair the damage after its done. My second is mascara. Just a quick swipe of mascara can make you feel so much healthier and more vibrant. I never leave home without mascara! If i had a third essential I'd say lip gloss. Those three things and I'm set for the day.
Lennie Ross also writes a blog on dating in Los Angeles called Lennie Ross Writes, where she dishes on men – where to find the good ones in LA, what to watch out for, etc. – as well as great LA date spots, and gives honest relationship advice.
Blow Me is available in paperback from Amazon.com, or as an e-book for all you technologically advanced readers out there.  This book will make you laugh, cry, and cringe – sometimes all at once – and yet you'll walk away inspired.
Happy Reading!
Hello readers!
Today I tried something very daring– acupuncture. I've never liked needles, but when I saw an acupuncture treatment as a Spa Week option, I had to try it out.
When I arrived for my appointment at Forat Acupuncture & Chinese Medicine, I met Behnaz, who smiled and assured me that this would be relaxing and wouldn't hurt a bit. And she was completely right. She cleverly started the treatment on my back– I never even felt the first needle. Honestly, the most I ever felt was a small pin prick.
It was a very relaxing hour; I focused on my breathing and cleared my mind, and forgot once about the needles and turned my head. There are a lot of healing remedies associated with acupuncture. You can get help for back or muscle spasms, or just to relax and focus on yourself.
Cheers!
Hello readers!
I hope that you are all enjoying Spa Week. I am!
I went for my first treatment today. I had a Swedish Massage at The Humble Abode Spa. From the second I walked in, I loved it. The spa isn't located right on the street, which I loved. To get to the studio, you walk down a brick path through cooling trees, and as you do, you pass the Pilates and Meditation studios, and then go into the main building. The busy and stressful sounds of the street really did disappear, and I felt more relaxed right away.
When I arrived for my appointment today, I was greeted by Liz, who had helped me make my appointment, and met my massuse, Shannon. Both women were welcoming and made me feel right at home.
This was my first massage of any kind, so I had lots of questions. I also had a very informative, friendly, and easy to talk to masseuse. During the massage, Shannon answered all my questions, chatted with me about her own spa experiences, and most importantly, she made me feel comfortable and relaxed. She was always extremely professional, but I felt like I was talking with a woman I could be friends with.
I absolutely recommend The Humble Abode Spa. I had such a great experience there, and I know that I will be returning for the meditation and pilates classes, as well as another fabulous massage.
Cheers!
Spa Week begins tomorrow readers! I hope that you all enjoy the wonderful spa services!
Cheers!
Hello readers!
October is Breast Cancer Awareness Month, and we at Spaphile support breast cancer awareness and understand how important it is to promote education and support.
No one is immune to cancer, and having the knowledge about breast cancer, health and treatments options, and support is invaluable. In fact, while breast cancer is commonly associated with women, according to the Susan G. Komen Foundation's national website, it also affects one out of every hundred men.
I volunteered with the Los Angeles chapter of the Susan G. Komen Foundation For The Cure, and have participated in walks to raise money for research. I saw and met so many inspiring and dedicated people, and heard so many amazing things about research and support groups around the country. Cancer is a scary word– it's daunting, but there is always hope and support. One of the things I loved best about volunteering at Susan G. Komen was the closeness of the people working there, and the passion that they had toward their goals.
For more information, contact your local Susan G. Komen chapter, and speak to your doctor about your own health and how you can active in your own safety. Learn how to do a self-examination, and discuss your family history so that you can be aware of any risks. There are so many ways to get involved: donate your time, raise money, get a  group of friends together and participate in the next Walk for the Cure, or even eat yogurt! Save your Yoplait yogurt lids, send them into Susan G. Komen's Save Lids to Save Lives Campaign, and Yoplait will donate 10 cents for each lid.
Cheers!
Hello readers!
As I prepare for Spa Week –8 days!– I've been thinking about spa etiquette. I'll be honest readers– I've actually never had a spa treatment before. The prices have always been a bit high for me, so I've never really been able to indulge. So with all of these upcoming treatments that I hope many of us will be enjoying, I thought it would be good to talk about the basics and what to expect.
Number One: Most importantly– Speak Up! It's your body, and you know it best. If you're getting a massage and the pressure is too much, say something. And when you make your appointments, be sure to talk to the receptionist. If there's something specific that you would like, or if you need an accomodation, ask them if they offer it.
Number Two: I know that I would be more comfortable getting a massage or a facial from a woman. I want to feel at my most relaxed and able to enjoy the moment, and if I knew that some guy was massaging me, I would be more focused on that than the treatment I was there for. It's really about your individual comfort level, so when you book your appointments and you have a preference, ask the receptionist about it. Which brings me to my next question….
Number Three: To be, or not to be…naked. This one really does depend on you and how you feel. My advice? Go with your gut. If you don't mind being naked, then more power to you! But if you want to keep some clothing on, or wear a towel in the sauna, go for it! You know what you are most comfortable with, and that is most important.
Number Four: A few helpful tips– try not to eat for about an hour before a treatment, and limit your alcohol. Save the mimosa brunch for afterward. And please, turn off your cell phone. This is your time to relax and pamper yourself– why would you want to bother with emails from work and text messages? They can wait at least an hour.
Enjoy readers!